Are you bored of playing games that lead to nowhere? Do you want to add a certain spice to your games? If the answer to both of these questions is yes, mobile dating sims games are the perfect choice for you. And we happen to know just the right game you should play first — Puzzle of Love by Bad Boy Apps. What makes the game so special and our favorite? Let's dive into the article to find out more!
Everything you should know about Puzzle of Love
Imagine being the most celebrated author across the globe and getting to live in a house full of attractive girls. It is straight out of your dream, isn't it? Puzzle of Love is all about meeting different women every day, all of whom are in love with your novels and can't stop flirting with you.
All of them want to know when you will be launching your next novel and that's your chance to swoop them off their feet and start flirting back. But to keep the creativity flowing, you need to go on romantic adventures with the girls you meet, so you can turn your experience into a story for your novels.
Leveling up to court different girls
You have to solve love puzzles by creating colorful combinations and get yourself a new girl to date and flirt with. When you unlock new levels, you also unlock rewards, which are gifts or special powers to impress your date. You can take your girl out on dates to the movies, candle night dinners, and cafes and also buy her cute presents. If you really like her, you can continue your relationship or break with her and find someone new.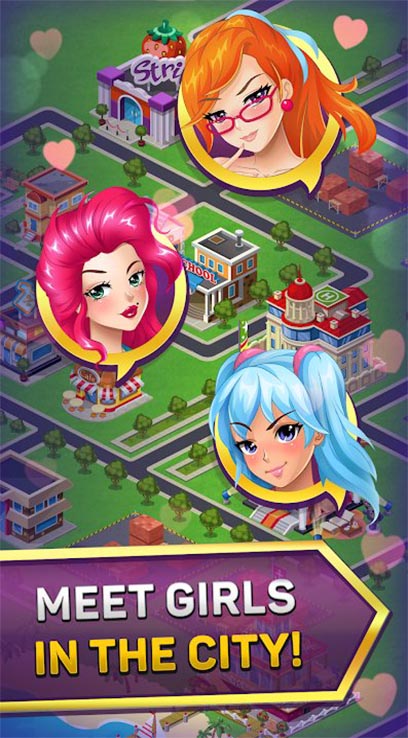 The best part about Puzzle of Love is that it never ends. You can keep playing the game all your life to find the perfect match for you and even if you don't, you can still date thousands of women.
Top features of Puzzle of Love
Try out anime dating with Puzzle of Love – here is why.
1. Endless number of match 3 games for you to play
Match 3 games are easy but interesting at the same time. You will get to play thousands of match 3 games in Puzzle of Love.
2. You control all the love stories
You have complete control over the fate of your many relationships. All of us want to have a settled, happy life in reality but since there are no consequences while playing Puzzle of Love, you can play out your weirdest and wildest imaginations.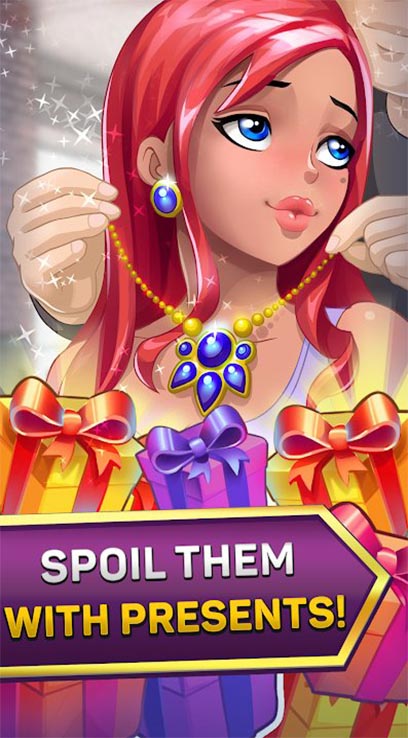 3. Levels get harder as you move ahead in the game
As your move up in the game, you will find it more difficult to attract girls and win match 3 games. That's where it gets more interesting. Don't blame us when you get addicted to the game!
4. Available on iOS and Android phones
Download Puzzle of Love today from Google Play or App Store to unravel your story of love, attraction, and drama.
Why is Puzzle of Love the best dating sims game?
There are so many reasons why Puzzle of Love is our favorite game. Here are the top ones:
Curiosity keeps you going. As the game progresses, you unlock new complex situations and unexpected plot twists will keep you engaged. Puzzle of Love is the type of game you will never get bored from because it will always surprise you with a twist.
Game written by professional script writers. The game isn't some random game where the developers created a loose story and launched. A lot of top script writers worked on the story and plot for months to keep it fresh and happening for you.
Offers real life dating experience. Once you start playing the game, you won't realize that it is all fictional because everything feels so real. The gameplay is one of the best that we have seen until now and all characters have unique personalities, which makes it interesting and different than other typical dating sims games.
More games from Bad Boy Apps
Bad Boy Apps has another amazing dating sims game for you, which is called Passion Puzzle and it is just as interesting. It is set in a coastal city of Japan, where you meet new girls daily until you meet the love of your life.
And things only get dramatic from there because the game allows you customize girls to suit your liking. In the beginning of the game, you meet four girls, all of which work different professions. These girls are Loli, Mika, Emila, and Mary and you get to court them all at the same time. Just like Puzzle of Love, the game is written by leading script writers, so be ready for the unexpected and heart shattering plot twists.
Download Puzzle of Love and Passion Puzzle today and live your dream life!